Discover more from Reserve Report
"... the major obstacle to the development of new supplies is not geology but what happens above ground: international affairs, politics, investment and technology" - Daniel Yergin
Schlumberger Reports
"If trouble comes when you least expect it then maybe the thing to do is to always expect it" - Cormac McCarthy
---
Upcoming Oil/Production Policy Dates:
April 21st:  TX RRC makes proration decision

May 11th: Oklahoma Corporation Commission meeting

June 10th: Next planned OPEC+ teleconference
---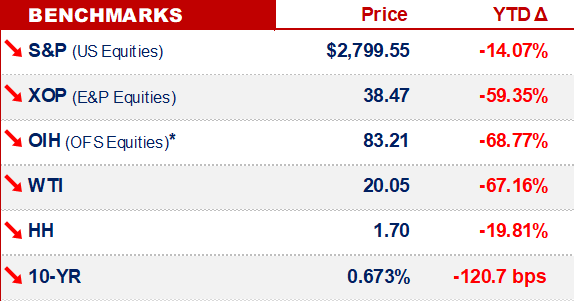 *OIH did 1-for-20 reverse stock split
VIRUS / MARKETS.
Equities are still trading on headlines…
The 2x that we believe will dominate tomorrow morning are:

The market's had a soft stomach lately, we're not going to try to predict how it'll digest these headlines -
---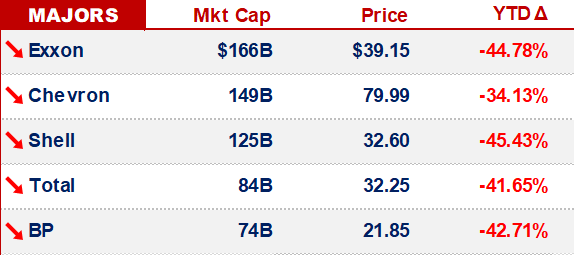 SCHLUMBERGER.
Before market open, Schlumberger is set to report Q1 earnings.
However, those earnings won't be all that interesting compared to their Q2 forecasts…
What the market expects: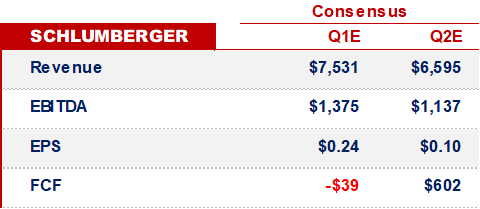 There's 2x things that Schlumberger's going to be dealing for the next few quarters:
Canceled worked

And getting paid
We're not sure which will be the bigger problem…
… we might find out tomorrow morning -
---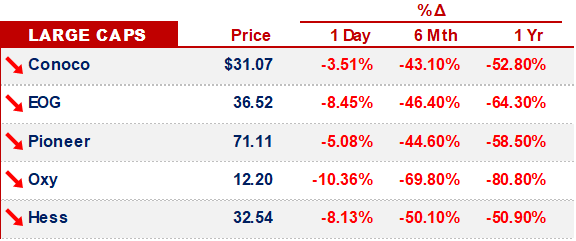 PRODUCTION CUTS.
This week's TX RRC proration hearing was an all-day event.
**Ten hours of testimony**
We'll spare you the grief.
Two comments of note:
"the hardest thing I think in my life is to sit back and do nothing, and yet that is sometimes [what's needed]" Commissioner Wayne Christian

"What if other states don't do this?" Commissioner Christi Craddick
Next Tuesday, we'll get the Commission's final verdict.
If you're looking for a summary, this one's pretty good.
And if you're feeling sadistic this weekend, then click here to watch the replay -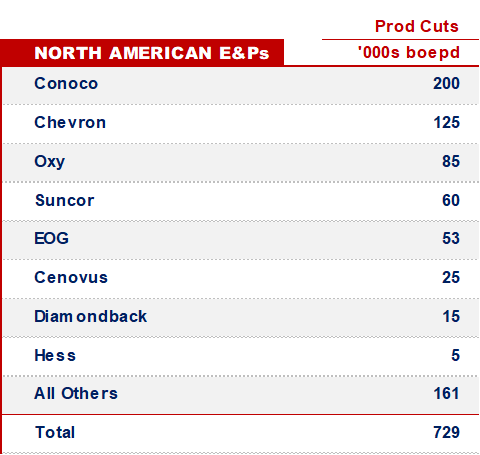 *Arathy Somasekhar from Reuters has a more detailed list
On the topic of production cuts / proration…
So far - from public US & Canadian E&Ps - we've seen ~3/4 of million boepd of voluntary forecasted production cuts.
That number's definitely going to get larger.
In the coming weeks, it'll be interesting to see that number grow, along side the forecasted growth of crude stocks.
If it doesn't grow fast enough, we'll see that next OPEC+ meeting moved up to May -
---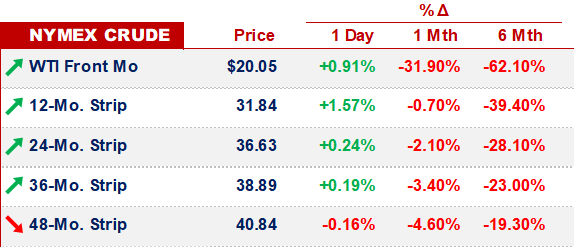 OTHER NEWS.
EFT was profiled by Reuters - we see this story going one of two ways:
A Pulitzer

Or the Mark Twain Prize for American Humor
That's it for this week - if you have a few minutes to spare, a story from an old interview w/ Ray Bradbury caught our eyes, we read it twice - we'll be back Tuesday, enjoy the weekend -