Saudi Quick Fix
Kingdom restores lost crude production faster-than-expected
"If everything seems under control, you're just not going fast enough" - Mario Andretti
---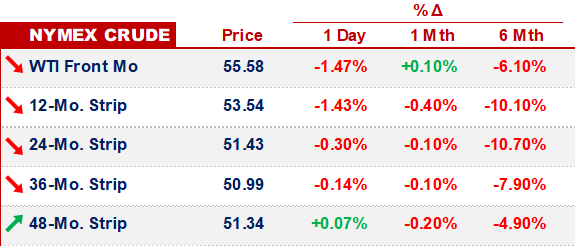 OIL.
Crude prices are down this week on news that the Saudis are restoring crude production at a faster-than-expected pace.
Further price losses will likely be capped by the prospective threat of additional attacks on oil facilities in the region.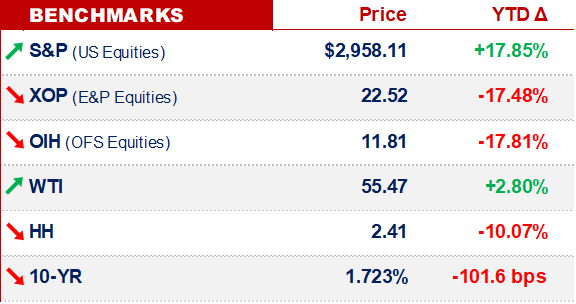 On the Saudi production news, US E&P & Oil Service Firms began a downward slide:
YTD, US E&Ps are down ~20%

On an LTM basis, the Large Cap names are down ~40%
---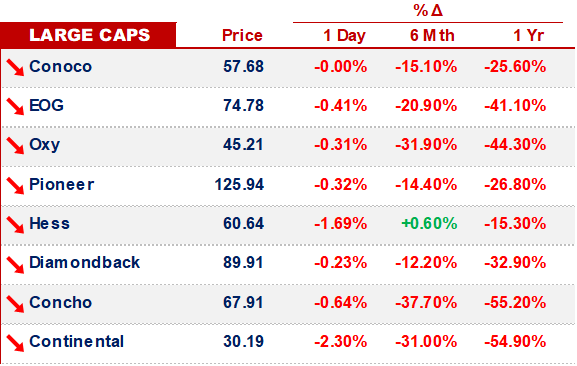 BANKRUPTCY UPDATES.
As part of White Star's Chapter 11 case, Contango Oil & Gas announced that it has entered into an asset purchase agreement to acquire STACK, Anadarko & Cherokee assets from White Star, totaling:
314,800 Net Acres

575 Operated Wells

318 Non-Operated Wells
The transaction is expected to close in the fourth quarter of 2019.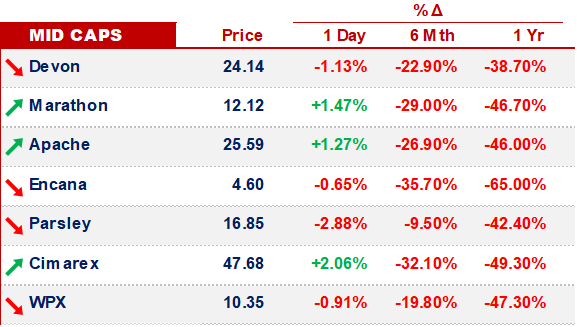 In other Chapter 11 news, Halcón Resources is reemerging from its 2nd bankruptcy.
On Wednesday, Halcón announced that its bankruptcy court has confirmed a prepackaged re-org plan and that it expects to emerge from bankruptcy within the next few weeks, subject to satisfying closing conditions.
The plan:
eliminates more than $750 million in debt; and,

provides a new $750 million senior secured revolving credit facility -
---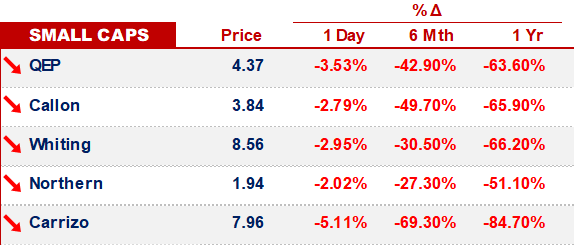 ARAMCO IPO.
Saudi Aramco is sprinting towards its long-awaited initial public offering at double pace, causing research analysts to scramble to prepare their coverage initiation research.
Analysts met with Aramco in Dhahran for two days this week, after which they will have roughly three weeks to prepare their pre-IPO research, according to an internal schedule report by Bloomberg. Normally, analysts have 6-8 weeks ahead of a large IPO to prepare initial research.
Aramco aims to list on the Saudi exchange as soon as November. It would not surprise us if the IPO is delayed well into 2020 -
---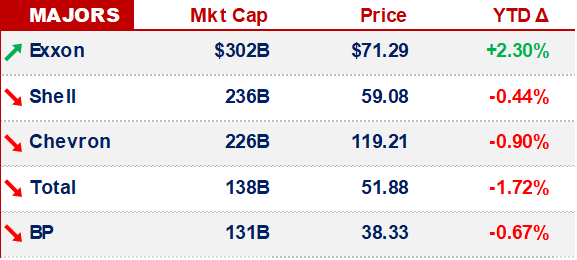 PERMIAN NEWS.
Two weeks after spinning out of PWPCM, Pickering Energy Partners announced a Permain Basin JV with Henry Resources.
The JV's strategy is to opportunistically exploit the liquidity-driven mispricings in the A&D market. The Henry team will operate acquired assets -
---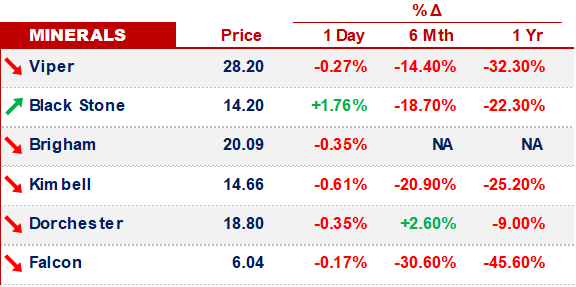 WELL SPACING.
Trent Jacobs, the JPT Digital Editor, published an article on well spacing that's worth a read.
TLDR version:
The distance between horizontal wells is almost always reported as single parameter (known as a midpoint measurement between wells), often in clean round numbers, e.g. 450 ft or 600 ft

Midpoint measurements, the paper argues, are too simplistic, which can lead shale producers to make multimillion-dollar mistakes when it comes to planning drilling campaigns; a new method, proposed by Enverus (fka DI) uses ~300 different inputs to come up with a better forecasts
We recommend reading the article -
---
That's it for this week - catch y'all Tuesday -