Discover more from Reserve Report
"... the major obstacle to the development of new supplies is not geology but what happens above ground: international affairs, politics, investment and technology" - Daniel Yergin
LNG Shootout
"Force majeure… its french for go fk yourself" - Member 6481, Bloomberg EE Chat
---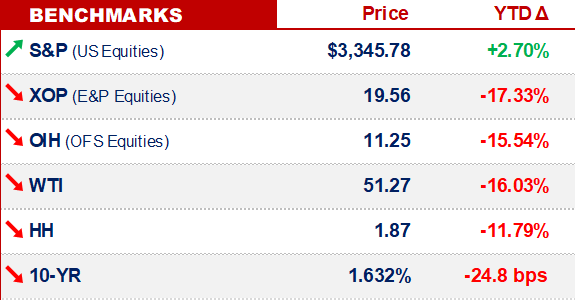 GAS.
***L-N-G is now spelled G-F-Y**
Yesterday morning, there was a showdown.
China, staring down France.
And CNOOC fired the first shot:
"In a dramatic and rare step, China National Offshore Oil Corp. declared what's known as force majeure, meaning it won't take delivery of some LNG cargoes, because the virus is constraining its ability to import the fuel. It's among the first known cases of the legal clause being invoked in commodity contracts as a result of the epidemic." - Stephen Stapczynski, Bloomberg
In an unfortunate case of coincidence, Total - an (if not, the most) exposed counter-party - reported full-year results, a few hours later.
Live. On LinkedIn.
And Total fired back:
"Some Chinese customers - at least one - are trying to use the coronavirus to say I have force majeure," Philippe Sauquet, Total
This shootout's not over.
The next shots will be fired lawyers.
Reuters touched on legal basics of what to expect next.
Long-story-short, Total is going to be receiving less cash than expected, at least for now.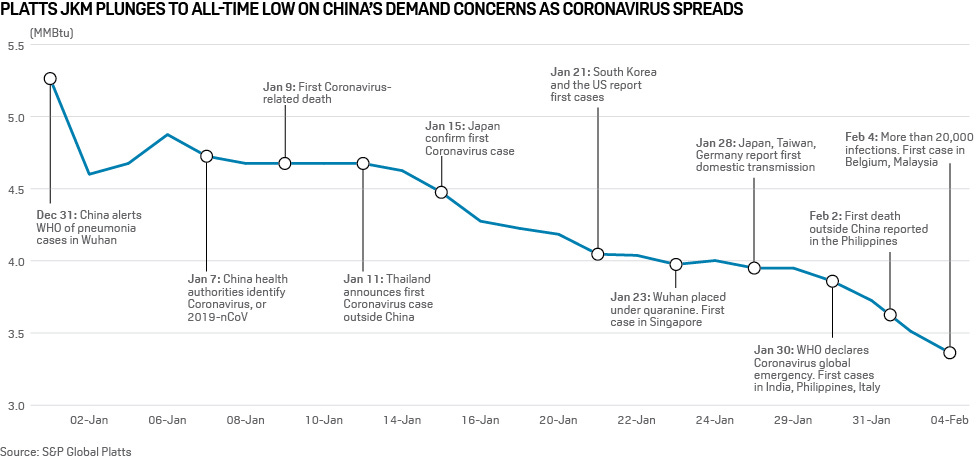 This Asian LNG price timeline (from Platts) displays a now obvious trend…
…that coronavirus infections have a negative correlation with the price of LNG -
---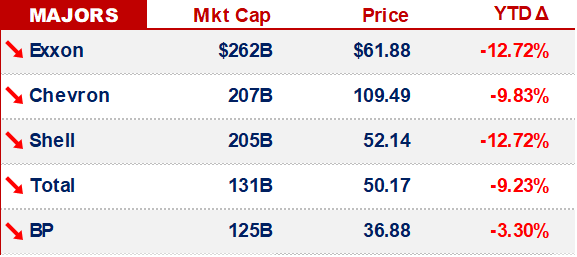 IOCs.
Kevin Crowley, from Bloomberg, wrote a piece, this past weekend, on Chevron & Exxon, summarizing their situations better than we ever could.
In his words:
"The companies posted their worst results in years on Friday, dragged down by weak performance across most business lines. The origin of much of their current problems can be traced back to America's shale revolution, which in little over a decade ended a domestic shortage of oil and gas and created a seemingly limitless source of supply, pushing energy prices lower."
And
"Both companies are 'competing in a sector that has systematically destroyed value for investors over the past decade,' said Mark Stoeckle, a Boston-based fund manager at Adams Funds with $2.5 billion of assets. 'It's going to take time, and consistent results to convince the investing public' otherwise."
Both firms maintain that the current plan is to continue to invest heavily in projects around the globe.
A counter-cyclical investment strategy.
That makes sense.
However - we wonder - are investors just hammering them for past actions?
Exxon did spend >$45BN on BOPCO + XTO.
Have they generated positive cash flow from those investments?
At this point, we're not the only ones asking that question -
---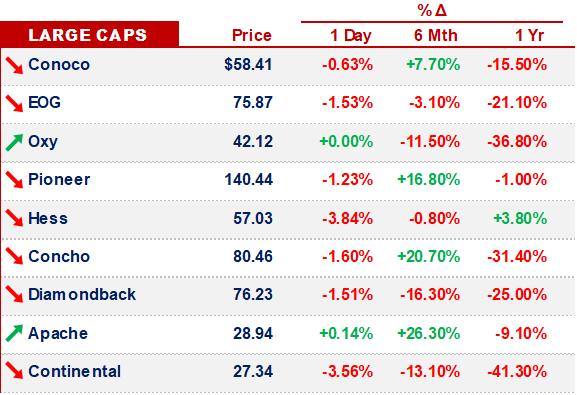 FOURTH PLACE.
As if the last ten days in Oil & Gas didn't have enough news…
…the UAE announced the 4th largest gas discovery.
Ever.
80tcf. EIGHT ZERO.
That's size of proved shale gas reserves in the Permian + Eagle Ford.
The UAE's oil fields already amounted ~10% of the world's proved oil reserves.
So this discovery is just icing on the cake -
---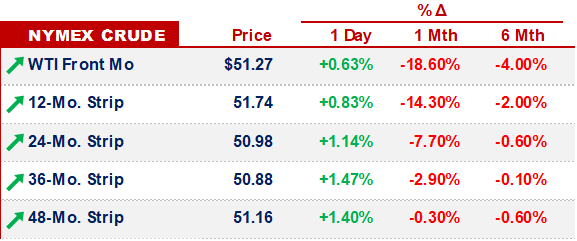 MOOD.
Dan Pickering nailed it:
OTHER NEWS.
---
That's it for this week - we'll be back Tuesday - hope y'all get to enjoy the weekend
*note, it looks like the comment feature was added - feel free to use it