Discover more from Reserve Report
"... the major obstacle to the development of new supplies is not geology but what happens above ground: international affairs, politics, investment and technology" - Daniel Yergin
Going Concern
"…there can be no assurances that [Chesapeake] will be able to successfully restructure its indebtedness, improve its financial position or complete any strategic transactions."

"As a result of these uncertainties and the likelihood of a restructuring or reorganization, management has concluded that there is substantial doubt about [Chesapeake's] ability to continue as a going concern" - Chesapeake's 10Q
---
***Editor's note: We're open for business for loan-level / asset diligence consulting; contact Matt [matt@wildcax / +1 (361) 658 5184] for more information***
---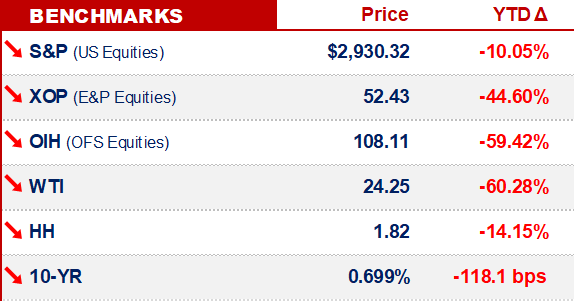 LIQUIDITY.
In light of recent revolver draws, "incentive prepays", & covenants that destroy value, we have a question - for the DCM / LevFin / RBL bankers: who are your attorneys & what exactly are you paying them for?
An inversion of this question - the other side of the contracts - is also worth pondering
We've thought about this… quite a bit.
It may all just boil down to competition & business cycles:
When there's limited liquidity, lenders can negotiate favorable terms

Where there's unlimited liquidity, lenders bid out reasonable terms altogether
For E&P lending, this is compounded by the myriad of variables that are lease & midstream contracts, as well as all of the challenges of petroleum engineering.
But do those complexities even matter?
And, if the Fed provided banks w/ liquidity & LLR relief, would E&P debt be re-fi'd at terms that are value destructive at the current strip?
Perhaps our questions of attorneys & underwriting are wasted words.
In any case - we can't get this 30yr-old quote out of our heads:
"Earnings don't move the overall market; it's the Federal Reserve Board - focus on the central banks & focus on the movement of liquidity" - Stan Druckenmiller, ~'88
---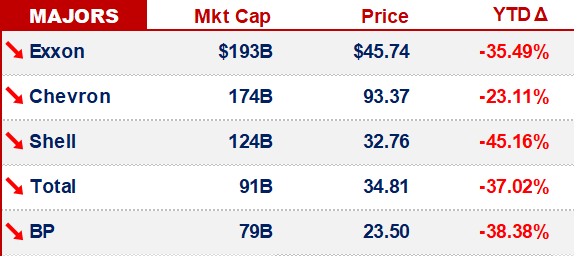 CHESAPEAKE.
Friday:
"The Board & Compensation Committee, with the advice of their independent compensation consultant & legal advisors, determined that the historic compensation structure and performance metrics would not be effective in motivating and incentivizing the Company's workforce."

"As a result, given the current circumstances, the Board and the Company implemented the following revised compensation structure for the Company's senior executives (including our named executive officers), employees and non-employee directors." CHK 8-K
Effectively, the 21 top executives will receive a prepay of $25MM in incentive compensation.
Monday:
"…the Company has engaged advisors to assist with the evaluation of strategic alternatives, which may include, but not be limited to, seeking a restructuring, amendment or refinancing of existing debt through a private restructuring or reorganization under Chapter 11" CHK 10Q
If this kind of governance is your kind of rodeo, then we're sure you'll find every seat on this list trading at a discount: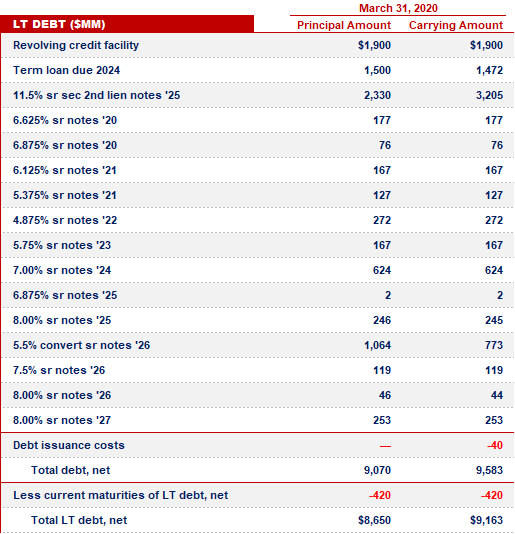 On the Exec Comp front - for what it's worth - if there's a key-man with a competing offer, we get it.
Market rate.
However - in this market - we'd be surprised to see 21 offers…
---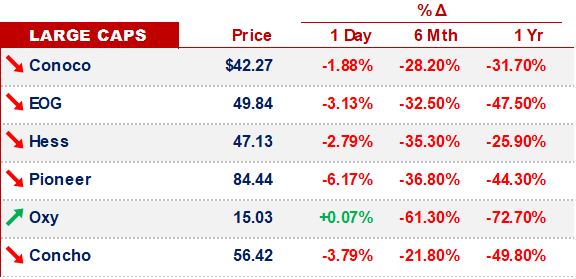 A CANARY.
The onset of a lawsuit brought by the European Commission - against Karlsruhe - is a dead canary.
The metaphorical coal-miners that run the EU should heed the warning.
Ignorance of a dead canary - the '15–16 UK renegotiation of EU membership - dealt the European project its biggest blow.
That time, it was an issue of immigration.
Cameron needed tighter controls…
…and those needs fell on deaf ears:
"If you wish to have free access to the single market then you have to accept the fundamental European rights as well as obligations that come from it. This is as true for Great Britain as for anybody else" - Angela Merkel
This time around, it's the Germans asking for more control.
Specifically, that the ECB has overstepped its mandate with bond purchases - threatening to withdraw the Bundesbank from participation in the bond-buying program.
The shorter-term nature / potential of the situation is what concerns us.
In the coming weeks - if the situation is not resolved - we'll dig in deeper -
---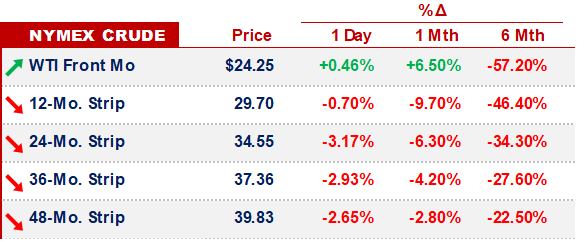 OTHER NEWS.
That's it for today - we'll be back on Friday - enjoy the week