Discover more from Reserve Report
"... the major obstacle to the development of new supplies is not geology but what happens above ground: international affairs, politics, investment and technology" - Daniel Yergin
Skilling vs Goliath
"My advice to energy executives talking to investors: Don't bullshit bullshitters" - Mr Skilling
---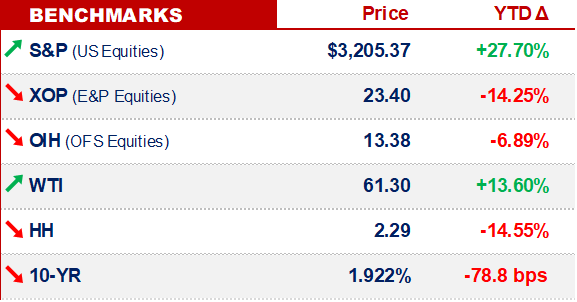 ***Note from the editors***
The only worthwhile news this week was out of Devon.
We decided to use the absence of events to take stock of what has been the most surprising story from the Oil Patch in 2019 - it so happens that it comes from MLP land.
That's not our beat, but this story is worth telling.
But first, Devon -
---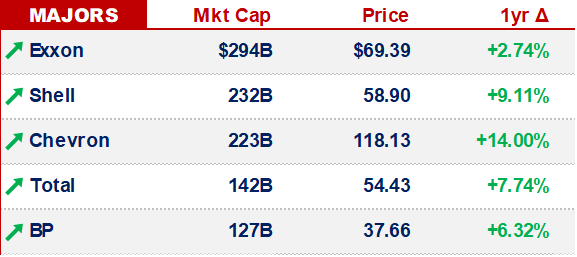 BARNETT.
After getting board approval to sell its Barnett Shale assets back in February, Devon finally found a buyer.
On Tuesday, Devon announced that it's selling those assets to Thai-backed Banpu Kalnin Ventures for $770Mm.
Kudos to Devon for getting the deal done.
The shale boom started in the Barnett. By 2008, there were ~200x active rigs.
Today, however, there's only 1x active rig.
Of major shale players, Devon is the last to leave the Barnett.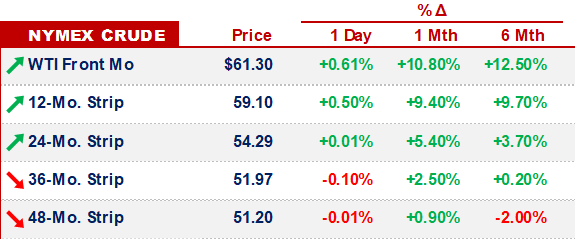 The biggest winners in the shale trade have followed a single strategy - get in, get out.
Just flip it.
Devon got the 1st half right - they got in early, buying Mitchell Energy back '02.
On the sell, well, they held on too long.
And for that, Devon's taking a ~$700Mm charge.
Which is not ideal, but all things considered, it's really not that bad.
At least they found a buyer -
---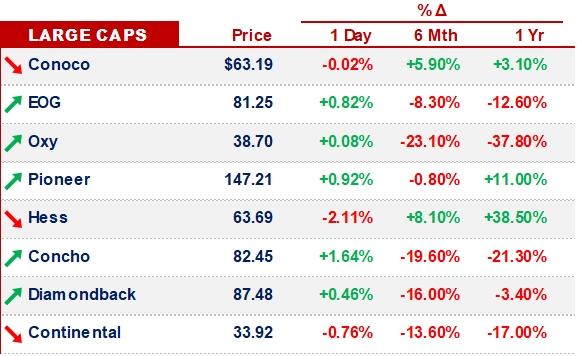 DAVID VS GOLIATH.
Not THE Jeff Skilling, of Enron infamy.
We're talking about an anonymous Twitter user, that goes by @mr_skilling.
And yes, it felt weird to type that sentence - but hey, 2019 has been a weird one.
Weirder still…
On Tuesday, after waging a ~4x month all-out war-of-words, that anonymous Twitter user won his battle against Blackstone - **the largest alternative investment firm in the world** - securing shareholders a 15% increase vs Blackstone's original acquisition price for Tallgrass Energy.
Along the way, Tallgrass's CEO stepped down.
The humorous Twitter account managed this feat by leveraging the press (h/t Bloomberg), sell-side equity research analysts, investors, and social media.
Let's take it from the top -
It feels like it all began with a Bloomberg article, during March Madness…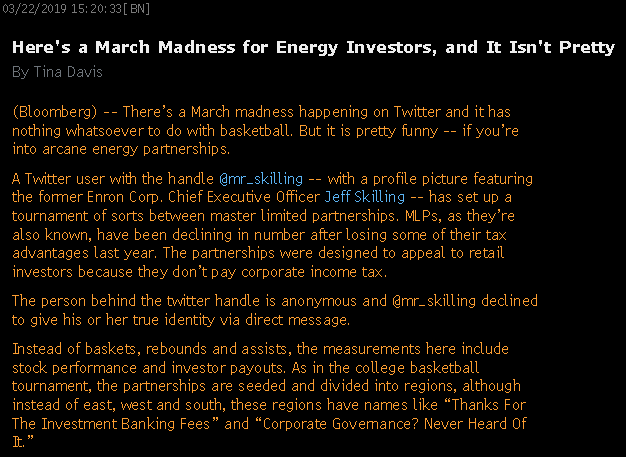 Amidst humorous antics was a serious critique of MLP corporate governance.
Months later, what followed, was internet entertainment of the highest order:
Four hours after that Tweet, the deal was announced: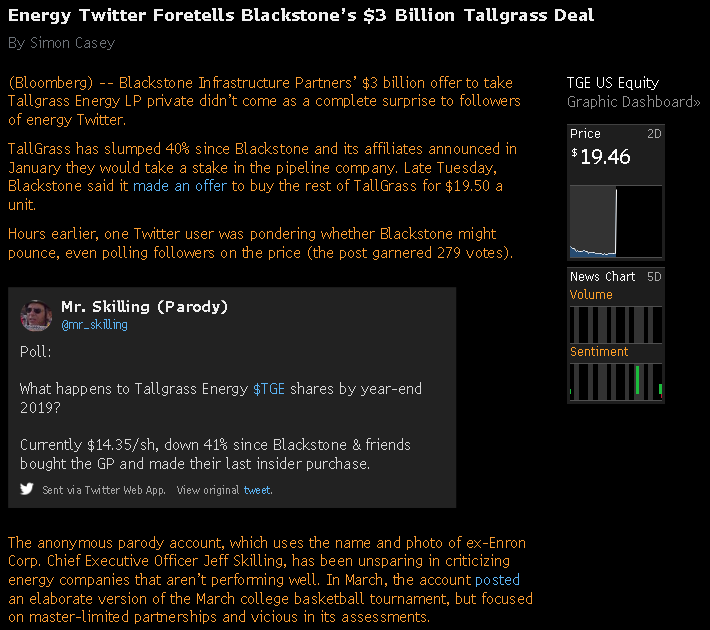 Skilling was back in the news.
Two days after that, Liam Denning, also from Bloomberg, wrote a scathing piece on MLP Corporate Governance. Some highlights included:
"I saw a reference on Twitter under an anonymous handle called @mr_skilling (it's a parody, folks … I think) to 'Management Side Letters' in a filing made by Tallgrass…

…these letters contain a provision that … the CEO, CFO and COO – could sell their stakes for a minimum price of $26.25 per share, a 35% premium to this week's buyout proposal…

… The company also characterizes the agreements as 'facilitating management's retention of equity interests,' and thereby 'ensure continued alignment between management and equity holders'…

… that last bit may prompt some narrowing of the eyes by equity holders faced with the prospect of getting paid substantially less than the executives with whom they are supposedly aligned"
Morningstar & Baird, sell-side analysts, joined in the criticism.
And then Chili's (yes, THAT Chili's) opened the floodgates: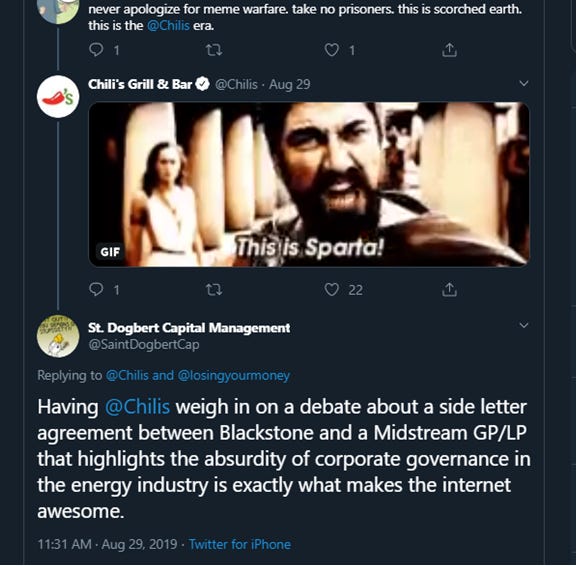 By the time everyone got back from Labor Day weekend, the biggest question in Houston was "who is Mr. Skilling"?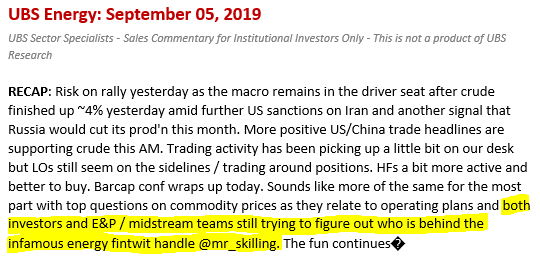 Efforts to unmask the vigilante failed.
And a fire was started.
By Thanksgiving, that fire had risen - Tallgrass's CEO stepped down.
And this week, the revolution was won - Blackstone increased their offer.
Shareholders won.
Skilling won.
**Btw, as if this wasn't weird enough already, Mr. Skilling now goes by Mrs. Skilling**
In 2019, an anonymous social media account spoke truth to power (literally the largest alternative asset manager in the world), and WON.
For 2020… we're expecting the unimaginable…which, by definition, means we have no idea what's coming… should be a fun one -
---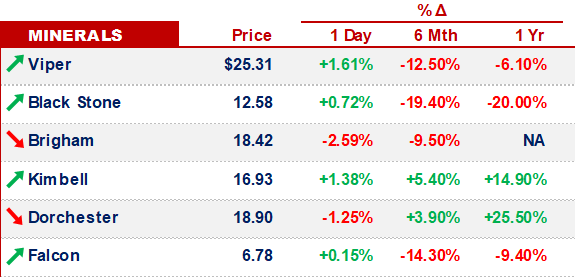 That's it for this week - we're taking next week off. After which, we'll be back to our regularly scheduled E&P programming.
Hope y'all enjoy the holiday break - Merry Xmas.